Tandem Solution understands that each organization's needs are different. Sometimes a one-size-fits-all training solution doesn't meet the ever-changing needs of your employee development.
We will work with you to develop a customized training solution that will address all the areas you need to review and eliminate the areas that you don't. Maximize your employees' time and learning potential by customizing the lecture, demonstrations, hands on labs, and length of our classes to meet your team's specific needs.
Tandem Solution Customization Process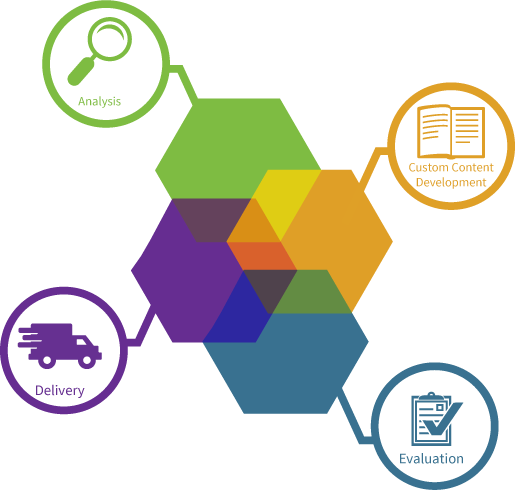 Initial Scoping: This meeting will help us better ascertain your general training requirements, the business need that you are trying to meet, your anticipated timing, a profile of the targeted students' skills gaps, and the logistical information needed for our proposed solution.


Preliminary Course Outline: Based on our initial scoping meeting, we will submit a course outline that has been designed to address your needs. It is important that you examine this course outline with other stakeholders, to determine if the represented topics are applicable, if additional topics should be included, and if any irrelevant topics should be omitted. We will then solicit your feedback to apply to the subsequent steps of this process.


Working Course Outline: Based on our preliminary course outline and the stakeholders' feedback, we will design and submit a working course outline for your approval.


In-class Labs: Once we have an accurate working course outline, we will work closely with you to design and include hands-on labs that reinforce the agreed upon course topics and that are specific to your environment and the anticipated projects of the students. This step is vital in our commitment to make your training as impactful as possible and to provide the highest return on your training investment.


Final Course Outline: Based on the information that we obtain from the previous steps, we will design and submit a final course outline (with customized hands-on labs) for your approval.


Acceptance and Scheduling: Once we have your final approval of our proposed customized learning workshop, our Operations and Scheduling Team will work with you to secure training dates and times that will work best for you.


Final Walk-Through: Prior to training, we will contact you to confirm your delivery dates, to go over last minute logistics, and to determine any additional topics of learning that may need to be included.


Delivery: Your private / traditional Instructor-led training will be delivered exactly as you have planned and the topics of learning will be presented to students. During the delivery of learning and hands-on labs, students should interact with the Instructor to ensure that all desired outcomes are met and ongoing feedback will be solicited to guarantee the overall success of the class.